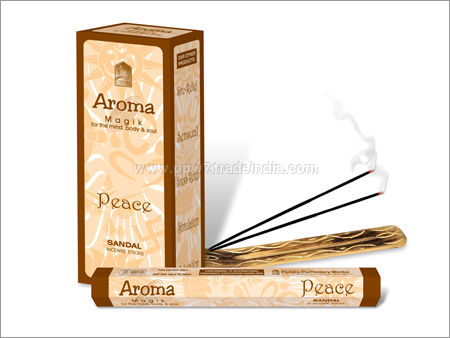 Sandal Incense Sticks
Product Code : Sandal
Product Description
With inconceivable industry experience, we are energetically occupied with producing, exporting and supplying Sandal Incense Sticks. Upheld by the group of experienced experts, this reach is handled at our best-in-class production unit utilizing premium quality sandal wood and cutting edge manufacturing process. Also, these incense sticks calms nervousness and bring tranquility. Our offered reach is prepared with exact creation and brilliantly pressed to meet the different needs of the customers. These Sandal Incense Sticks are offered in a very competitive price.
Key Features
Precise structure, Non-harmful chemicals, Pleasant fragrance and longer time span of usability
Immaculateness, Longer time span of usability, Pleasing aroma and Eco-friendly materials.
Our production unit is situated in Bangalore, the head assembling focus of Incense Sticks
100% home grown, immaculate and totally common
Our scope of Incense sticks free from unsafe chemicals and synthetic binders
It has sober yet long-lasting fragrance.
All the chemicals used in the incense are eco-friendly, organic and soothing to mind and body.
The aroma is sweet and keeps the room fragrant for a longer duration of time.
The incense burns for a long period with a little smoke.
Earned membership of Export Promotion Council for handicraft work.
Follow ethical business practices and client friendly methodology
Why Padma Perfumery?
All our incense sticks are made with organic materials without any harmful effects.
We are one of the largest incense makers in India with a sprawling production plant situated in Bangalore, Karnataka.
These incenses are specially designed for meditation, yoga and silent prayers.
These are handmade products, encouraging semblance in mind, beat stress and instill new energy.