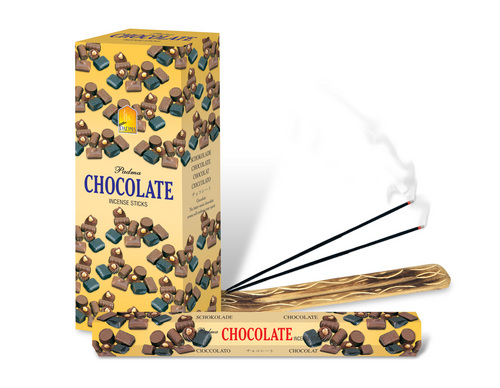 Chocolate Incense Sticks
Product Code : Chocolate
Product Description
We are highly acclaimed name in industry as leading manufacturer, exporter and supplier of Chocolate Incense Sticks. These sticks are very famous among chocolate lovers specially children because these release very pleasing aroma. Our team of highly trained professionals process these sticks using highly quality ingredients and modern processing techniques. These sticks are perfectly designed, equal in length and have uniform surface for smooth burn out and also have long lasting scent. These Chocolate Incense Sticks can be availed at reasonable rates.
KEY FEATURES:
Purity, Longer shelf life, Pleasing fragrance & Eco-friendly
Our production plant located in Bangalore, the chief manufacturing center of Incense Sticks
100% herbal, pure and completely natural & Eco friendliness, Pleasing fragrance, Release less smoke
Our range of Incense sticks free from harmful chemicals and synthetic binders
Pleasing, Olfaction-friendly and Long lasting fragrance
Non-poisonous & Non-toxic & Biodegradable, Environment friendly, Causes no irritation
Sweet fragrance compounds & Innovative packaging
Low smoke but burning for a long time & Long lasting fragrance, Low smoke, Purity & Non-toxic
Being a member of Export Promotion Council for handicrafts
Follow transparent business policy and customer friendly approach
Pleasant aroma, Long-lasting Fragrance, Non-poisonous & Purity
Why PADMA PERFUMERY ?

PADMA PERFUMERY incense sticks are free from harmful chemicals
Largest incense sticks manufacturing company in Bangalore, India
Well-located in the heart of agarbatti manufacturing area in Bangalore